When it comes to electronics and engineering, no one can beat the Germans. Siemens, a German company, has been leading the electronics industry for more than 160 years now. Siemens is a well reputable company that operates worldwide and has been providing its customers with high quality, durable and most technologically advanced electronics.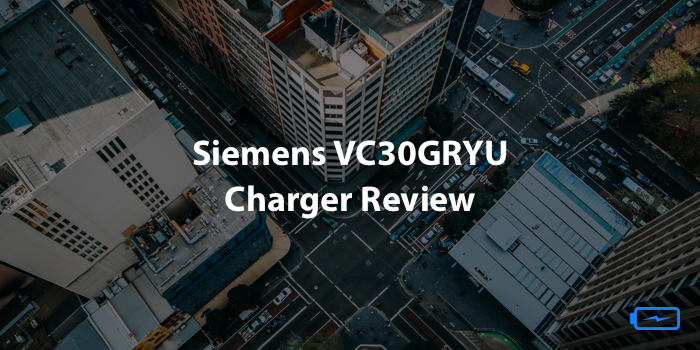 To make our world a better place to live in, many car manufacturers took a major step and introduced electric powered cars that do not emit harmful gasses and promote clean energy. As more and more people switch from gas to electric powered cars, the demand for electric car chargers rose too.
Not very long ago, Siemens entered the market and introduced its patented EV chargers and successfully took hold over a huge chunk of the market. The VersiCharge series by Siemens offers great EV chargers that not only perform well but also are quite durable.
The VersiCharge 30 Amp VC30GRYU by Siemens is a universal version of the VersiCharge series and is suitable for both indoor and outdoor usage. This best-in-class product by Siemens promotes clean energy. It comes packed with various features that will surely leave you in awe.
Features
Compatible with all plug-in electric vehicles so no matter which electric car you drive, you can charge it using the VersiCharge 30 Amp. However, if the socket of your car were different, you would need an aftermarket customization.
240 Volt, 30 Amp with output power up to 7.2 kW.
Portable and lightweight structure. Weighing just 21 pounds, the VersiCharger is easy to carry. You can not only keep in the trunk of your car but also move it around the garage.
Mounts easily without any hassle. Comes with mounting brackets
Passed quality standards. The charger goes through tough checking and quality tests. This means no faulty piece makes it to the market.
3-year warranty. This allows you to maximize the utility from the product and get the maximum for your money. If the product malfunctions anytime during the 3-year warranty period, you can get it replaced or fixed by the manufacturer only and that too without any hassle.
Easy installation. All you would have to do is mount the device on to the wall and plug the wire in the nearest power source. This plug and play feature would save you from calling an expert or an electrician. However, you should make sure the power outlet in your home matches with that of the device.
20-foot long cable for easy plugging.
Flexible wiring options.
Built-in Wi-Fi connects with your phone and allows you to control the power output and charging time from your smart phone. Moreover, this feature comes in handy when there is a need for an update.
Built-in timer so that you can charge the car according to your requirements.
LED Halo display with bright colors.
The VersiCharge VC30GRYU is also designed for fast charging and has proved to be one of the fastest EV chargers available in the market. The charger also comes with a bright LED Halo display that shows all the necessary information.
You can mount the charger the way that suits you the most. However, it is better if you place it near a power outlet. The components can also be detached in order to make installation quick and easy. The weatherproof body enables you to install it in your open garage as rain or direct sunlight would not have any effect on the device. This charger also helps boosting the battery, increasing its durability, which in turn leads to streamlined performance, reliability and enhanced mileage.
Another amazing feature of the device is that you can take it with you on the road or wherever you go. Therefore, you would not have to worry about or look for an EV charging station while driving. If you have already taken a step towards making this world greener, you make move a step further and make it even better.
VersiCharge is an EV charger series by Siemens that will keep on evolving with technology. This initiative by the German company has already become quite a big thing, especially in countries where electric cars are promoted.
Testimonials
VersiCharge, the 30 Amp chargers for electric vehicles, is one of the most advanced products Siemens has to offer. The decent grey colored casing with a smooth texture and fine curves make the device extremely eye-catching, hence grabbing the attention of non-EV drivers as well.
Siemens has never failed to satisfy its customers and has always provided high quality and highly engineered products. Almost all the customers were pleased by the features and performance of VersiCharge and showed an overwhelming and positive response in terms of ratings and reviews.
One of the many customers installed the charger in his office building to assist those employees who drove an electric powered vehicle. According to the customer, this charger is used about five to eight times on a daily basis and has been in use for over a year. The charger is still in perfect working condition and the time it takes to fully charge a car is more or less the same. This initiative has encouraged more people in his office to buy electric cars. He is now planning to install another piece in the building to make it more convenient for the people.
Another customer bought this charger after he found it strenuous finding EV chargers and electric vehicle charging stations in his city. He says it takes only a few hours for the charger to charge his BMW i3. Not only he saves a lot of money on fuel, but also he is quite relaxed about having a fast electric car charger at home. He said it was easy installing the charger and did not require him to call a professional. He also said the cable is just about the right length and material as it does not tangle. Moreover, the casing protects the charger from malfunctioning due to rainy or dusty weather.
Verdict
Siemens' VersiCharger 30 Amp is one of the most advanced electric vehicle chargers available in the market. German engineering and technology has made this product stand out in the in the industry. Within a short time after its launch, the product became one of the most commonly used car chargers.
The 30-amp charger will safely charge your electric vehicle and would ensure the battery is not harmed. The multiple features in the device will allow you to control the device even from your mobile phone, hence making it even more convenient for you.
The futuristic, smooth and decent design also makes it look quite good hence allowing you to add a pinch of beauty to your garage. This is a universal unit that you can use both indoor and outdoor. You can order this product from any trusted vendor or website. However, it is recommended that you go for a well-trusted site.
Siemens VersiCharge 30 Amp VC30GRYU offers you a number of features and comes with a price tag that is totally worth the money. Therefore, if you are looking for an efficient, reliable, durable and good-looking charger for your electric vehicle, this is the thing for you.