If you have an electric vehicle, you know the importance of having ample charging capabilities for your vehicle. You need to know that you will have plenty of power when you are on-the-go and it will do it in record time. In this post, we will review the JuiceBox 40A Charging Package for EVs and talk about the best features of it. That way, you can decide if it is the right one for you.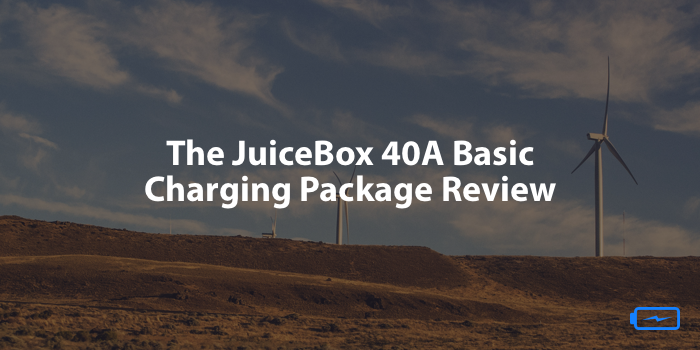 Manufacturer's Information
The JuiceBox 40A product is an innovative product of Emotorwerks.com, which specializes in providing the most robust, powerful power solutions for electric vehicles that are available today. They say on their website that they cater to the following industries:
Individual EV drivers
Workplace charging applications
Apartment and condos
Utilities and grid operators
The Emotorwerks company focuses on providing the best charging sources available for electric vehicles today. The JuiceBox 40A is heralded by the company as one of their best products they have available.
About the JuiceBox 40A
The JuiceBox 40A charging system is designed to plug into any NEMA 14-50 outlet and works with all production EVs. When you order the JuiceBox 40A system, you get the following:
A 40-amp 24-foot charging cable (also known as a J1772 cable)
A 6-foot input cable with 14-50P plug (also known as 'RV' plug)
An aluminum quick-release mounting bracket
A black J1772 plug & cable holder
Best Qualities of the Product
So what are the best qualities of the JuiceBox 40A? For one thing, the JuiceBox 40A is readily compatible with almost any type of EVs on the road today. This makes it a great charger to take with you when you are traveling. It offers very fast charging capabilities and it has many safety and compliance features that you need to be able to feel safe using it.
It is designed to put safety first and it also has some durability features such as GFI, charging interlock, and temperature monitoring so you will know it is not getting overheated.
Another feature that many users really like is its size. It is small and lightweight and easy to remove from its mounting brackets so that you can easily take it on road trips. It has an aluminum IP66 and UL rated enclosure and can be used either indoors or outdoors.
JuiceBox 40A - Recommended Improvements
The JuiceBox 40A charging system is a reliable charger that offers a robust set of features that will keep your EVs on the road and going when you are away from home. But nothing is perfect. It could be improved by offering off-hours monitoring or remote charging or other similar automated features but perhaps the company will consider adding these features sometime in the near future.
At this point, most consumers do not seem to feel the need for more features and the JuiceBox 40A does everything they need for fast simple charging of EVs. Read the Amazon reviews about this topic on Amazon's site or scroll down for more information on this point.
Electric cars are still new to the technology and automotive industries and with time, there will likely be more features added that are not available today.
What is unique about this product?
The JuiceBox 40A is unique due to its ability to charge on-the-spot and the fact that it offers more bang for the buck when it comes to charging stations designed specifically for electric vehicles. Many customers also like the fact that it can be used with any power source such as an RV-type plug-in wall outlet or any other similar wall outlet.
This literally means that you can power it up wherever you are and get back on the road. The compact size also makes it unique and this appeals to a lot of customers because they can transport it easily on trips and use it quickly for fast powerups. It is also weatherproof.
Special Setup Requirements
There are no special setup requirements for this EV charger but it uses 10kw of power and just requires an available wall outlet that can handle the charge. The current default current limit is 40 amps of power. You will be provided with all of the required cords and accessories that you need to charge it when you order this charger.
Speed of Charging
This charger charges fast according to many buyer reviews and many report that it is a lot of power and convenience for the money. Most consumers found that it could charge up fully within a couple of hours or less and that it charges at "top speed." This makes it an excellent choice for an on-the-road charger where getting charged back up fast is important.
Buyer Reviews
The JuiceBox 40A received an average of 4.8 out of 5.0 on Amazon with buyers leaving statements such as, "it does what it was supposed to do. It just works!" Another customer left the following comment: "This is a well thought out unit, heavy duty and solid. It is not too heavy and doesn't have bells and whistles. Just perfect. I love it."
The JuiceBox 40A has received 4.8 stars out of 314 buyer reviews so far on Amazon's shopping site indicating that most consumers who have purchased it are more than happy with their purchase and love the features that it offers.
Conclusions
The JuiceBox 40A packs a punch in more ways than one. It offers sturdy, reliable charging ability on the road, fast, and efficient power that can be easily and conveniently connected from any compatible outlet, and true on-the-road convenience that is hard to beat.
While it doesn't offer remote features like some of the higher-priced units do, it is a great deal and gives you a lot of bang for the buck.
As EVs become more popular and are seen as a standard of automobile manufacturing, the need and demand for this type of unit will increase dramatically. It is also likely that any features that are lacking will be added once the demand for such inventions go up.
The size, level of efficiency, and convenience of this power unit for electric vehicles would be a great choice for anyone wanting a simple solution for EV charging.
Buying Recommendation
There's no doubt that you need to be able to rely on your EV charger when you are away. Otherwise, you could just be stranded in a strange place without a way to get back home. Having ample power backup such as is offered by the JuiceBox 40A is the answer.
The company, eMotorwerks.com takes pride in offering only the best power supply equipment that money can buy for their industrial, individual, and commercial clients.
Their reputation for excellence suggests that the JuiceBox 40A is one of the leaders in EV charging systems on the market today.
We would recommend you reading about this unit for yourself and then purchasing it through Amazon or a similar vendor. You may even want to look into using this charger for more industrial-grade charging jobs. Visit the manufacturer's website to learn more.