If you're driving an electric car you will of course need a charger for your car. But how would you choose a charger? What are the differences between chargers? Is a specific charger compatible with your car? The answer to all the issues is the ClipperCreek LCS-20P, possibly the best charger on the market today!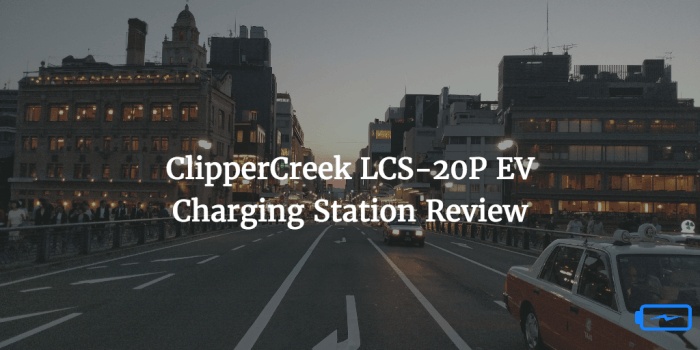 Some things to consider
To select the correct charger, you will need to check your vehicle battery's specifications. Certain EV batteries' onboard chargers operate with a different power setting than a certain charger. So what does that mean?
This means that the power transfer will be different, and with that, charging times will be different. If your car's onboard charger supports 6.6 kW, a 3.8 kW charger will charge the vehicle two times more slowly.
However, this does not mean the car will not be charged at all. It just means that charging takes longer.
Another thing to consider when buying a charger is the amperage of the charger and the amperage of your electrical circuit. A charger operating at 30 amperes may overload your circuit if exceeds its maximum load.
Lastly, when installing a charger, ask for professional help. A professional electrician will be more than able to install your charger without incident. Moreover, if you install it yourself and mess up, your warranty may not cover the damage.
If you're confused about Level 1, Level 2, and Level 3 chargers, here's a great explanation.
Now that you know some things to look out for, let's get on with ClipperCreek LCS-20P EV Charger review
Pricing and technical information
ClipperCreek LCS-20P EV Charger is one of the most revered chargers on the market, and it's not hard to figure out why. This station combines excellent performance and great versatility. It is the first charger to break the $400 barrier, becoming the most affordable one on the market.
Even so, the charger performs outstandingly. It is compatible with most, if not all, EVs, so you need not worry about that. You just plug it into the outlet and into your car, and voila! It works like a charm.
However, you need to consider its power and amperage. This charger operates on 16 amp and delivers 3.8 kW of current. Also, it is worth noting that this is a level 2 charger – this means that it operates on 240 V current, so plugging it into a 120 V outlet will cause the charger not to run, or in the absolute worst case damage your circuitry. This is why we advise seeking professional help.
The cable comes with a 14-30 plug that is universally compatible with most vehicles. It comes with a 25-feet cable, which is pretty long and ensures a rather nice reach. It comes with a wall mounted holster so you can set the cable aside when you are not using it. That is handy and we like things that are handy. :-)
Reliability and durability
ClipperCreek LCS-20P EV Charger is one of the most durable and reliable chargers on the market.
The wall-mounted holster is a great addition to the charger. Since it is already pretty small, the holster will work wonderfully to lessen the presence of the charger, and to put it away safely, so it does not get damaged by accident.
The product itself is tucked inside a NEMA 4 enclosure to protect it from the elements. The charger can therefore be mounted inside as well as outside. NEMA 4 enclosure system are watertight and withstand at least 65 gallons of water per minute from a 1-inch nozzle not less than 10 feet above the casing for 5 minutes; specifications are fun – aren't they?
As for the warranty, ClipperCreek LCS-20P EV Charger has a 3 year ClipperCreek warranty that offers full coverage. You also have a wonderful customer service available, that you can contact via e-mail or phone. The customer service is fast and several customers have praised how fast they act when damage occurs, sending the replacement in record time.
However, when installing the product, seek professional help, because the warranty does no cover damage due to neglect and unprofessional tampering.
The product also is made in the USA and has several approvals from leading safety standards and organizations.
Installation
We have mentioned some details about ClipperCreek LCS-20P EV Charger installation procedure, but we thought to make a subsection dedicated just for this anyway. The installation, as we have mentioned, is simple and easy – just plug the station into the dryer outlet and you're good to go.
However, there are several things to consider. The charger is a level 2 which means it operates on a 240 V current. This means you will need to supply a like charge or otherwise the charger won't work and might even overload your system.
Alternatively, you may install the charger to a 208V current or even 185V, but you should not exceed the amount, or go lower. Be sure to install a 14-30 receptacle, and not an L14-30, as these two are two different outlets, so the performance might be different.
Also, this charger operates at 16 amps, so you should make sure your circuitry has enough margin to safely power the ClipperCreek LCS-20P EV Charger and not to overload your system.
Customer reports
As for the customers, they have nothing to say but the best of this product. It is reliable, comes with a great warranty and customer support, and is very durable. It has a long lifespan and is easily enough installed and used.
What the customers found the most impressive about the charger is the fact that it is fast. It only takes it 4 and a half hours to charge a 2016 Chevy Volt. However, this is due to the fact that both the charger and the car operate on 3.8 kW power. A car operating with more wattage will take about seven hours to charge fully.
The customer also expressed nothing but positive regard toward the 25-foot cable, which allows for greater reach and more space to operate with when mounting the cable. They also liked the flexibility of this wall-mounted charger, as it can connect to most cars. The final thing they felt strongly about is the price – being priced under $400 makes this charger the most affordable on the market.
Thus, in a nutshell, the things people praise about this product and things that users say make the LCS-20P stand out are:
Fast charging
Compatibility with a vast array of electric vehicles
Convenience
Durability
Extended warranty
Final Word
And there you have it, that was our ClipperCreek LCS-20P EV Charger review! As you can see, you won't find a better product than this one on the market. It is safe, durable, reliable and fast. It is universal in each category as compared to other chargers and at half the price.
Sure, it may not be as fast as the HCS-60, but HCS-60 costs significantly more than LCS-20P. The HCS-60 operates at a higher wattage, but may not be as universal as LCS-20P. This price difference is especially appealing to customers who don't travel at great distances, so it saves them quite a lot of money to have this charger installed.
All in all, if you're in the market for a great charger that won't burn through your check balance, this is the product for you. The product is the absolute best at what it does and is more than worth its weight in gold. If you decide to buy this product, we assure you, you will never regret buying it. Good stuff, a major thumbs up from here!